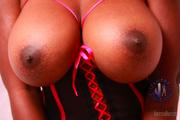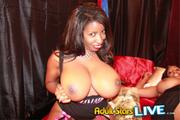 Vanessa Blue (pictured) was tweeting today about how black girls struggle to make inroads at Freeones.com and in the Missfreeones contest. You look in the top 100 and there will be several Latinas, several Asians, but just one black girl (Jada Fire) in the top 100. I don't think she was saying it was a racism thing, just that the users' tastes don't skew in that direction and that black models don't participate in the site as much as some other models do.
I think Vanessa is great... I've also mentioned Score babe Janet Jade in another forum and of course brought up Alisha Madison's (formerly Ms. Panther) valuable boob care tips (here:
http://boobmad.com/index.php?topic=204.0
).
All great, sexy girls I think. Do you have a favorite busty black babe? Let's have names -- who knows, maybe we can get some to visit the boards here if they're not feeling the love at Freeones...